26-28 March 2023 | Melia Sitges, Barcelona, Spain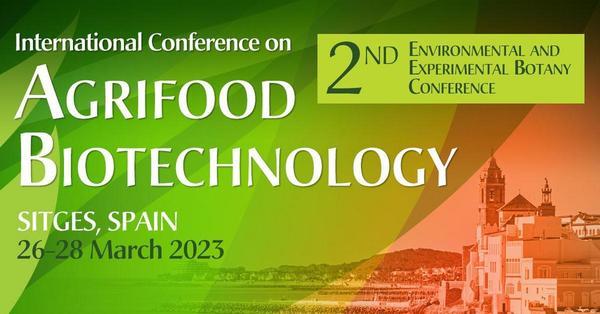 Submit your abstracts by 2 December 2022
The International Conference on Agrifood Biotechnology will be held in beautiful Sitges, near Barcelona, Spain from 26-28 March 2023.
The conference will bring together specialists in plant biotechnology, agriculture and the food sciences to share and discuss recent advances in agrifood biotechnology.
Particular emphasis will be given to integrative approaches, from ecology, plant physiology and molecular biology to food chemistry and food technology, all contributing to sustainable food production and agrifood biotechnology.
Quick links
The conference will favour the exchange of ideas between University or research center-based scientists and private companies working on sustainable crop production, plant biotechnology, food chemistry, food technology and other agrifood/biotechnological applications requiring knowledge on integrative approaches.
Oral and poster abstracts are now invited on the following topics and should be submitted using the online abstract submission system. Abstract Submission Deadline: Friday 2 December 2022
Conference Topics
Sustainable agriculture: ecological, chemical and biotechnological approaches
Integrative approaches to improve crop production and food quality
Fruit physiology and technology: pre- and postharvest processes
Plant biotechnology to improve human nutrition
The 1st Environmental and Experimental Botany Conference took place in Sitges from 27th – 29th October 2019. A special issue was published in the journal Environmental and Experimental Botany
To protect the health and safety of all our conference attendees, Elsevier requires proof of Covid-19 vaccinations or a negative lateral flow test (taken under the supervision of authorized health professionals, within 48 hours) to be eligible to attend. This will be coupled with mask wearing throughout the conference.
For full information on the Elsevier conferences Covid-19 requirements, please visit Covid-19 delegate safety