Plant Direct
Plant Direct Journal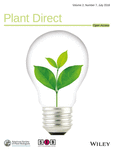 Editor-in-Chief: Larry York, Oak Ridge National Laboratory, USA
Scope:
Plant Direct is an open access, sound science journal for the plant sciences that strives to be a leader in supporting evolving community needs. Plant Direct is a collaboration between the American Society of Plant Biologists, the Society for Experimental Biology, and Wiley. In addition to direct submissions, we accept transfers from our society-journal partners The Plant Journal, The Plant Cell, Plant Physiology, and Journal of Experimental Botany. Topics include but are not limited to genetics, biochemistry, development, cell biology, biotic stress, abiotic stress, genomics, phenomics, bioinformatics, physiology, molecular biology, and evolution.
Publisher: Wiley
Owners: SEB, American Society of Plant Biologists (ASPB), Wiley
---
Benefits of publishing:
Prompt and equal consideration to papers reporting work dealing with a variety of subjects
Rigorous peer review
Pre-prints and society members receive discounts
Publishing quality research with speed and efficiency
Immediate open access
Rapid evaluation of transfers with reviews
Supports two societies with all their benefits
---
Publishing model: Online-only, open access
---
Peer-review model: Single-anonymous
---
Latest metrics:
2021 Impact Factor = 3.369 (rank 70/238 in 'Plant Sciences' category)
2021 Normalised Eigenfactor = 0.456 (rank 88/238 in 'Plant Sciences' category)
2021 CiteScore = 4.7 (rank 96/482 in 'Plant Sciences' category)
2021 output = 74 papers
Indexed in Web of Science, Scopus, Google Scholar, PubMed
---
Types of articles:
Research, Reviews, White Papers, Editorials, Registered Reports.
---
Links to important webpages:
Journal homepage: https://onlinelibrary.wiley.com/journal/24754455
Submission site: https://plantdirect.msubmit.net/cgi-bin/main.plex
Editorial board: https://onlinelibrary.wiley.com/page/journal/24754455/homepage/editorialboard.html
Plant Direct on Twitter: https://twitter.com/PlantDirectJ
Contact: Editorial office e-mail address [email protected]