Journal of Experimental Botany
​​​​​​​Journal of Experimental Botany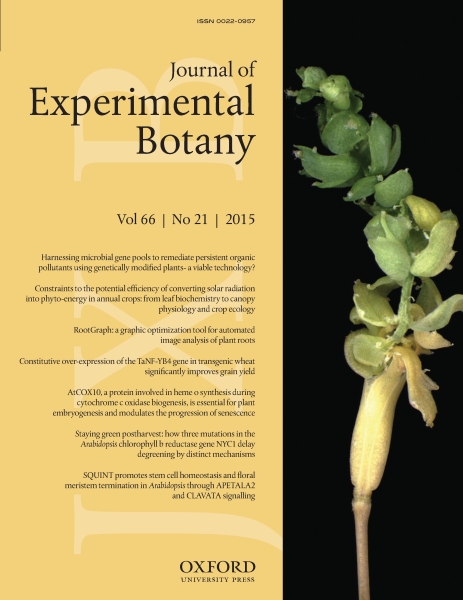 Editor-in-Chief: John Lunn, Max Planck Institute of Molecular Plant Physiology, Germany

Scope:
The aim of Journal of Experimental Botany (JXB) is to publish papers that advance our understanding of plant biology. Original research should provide new information on fundamental processes or mechanisms including those underpinning the improvement of plants for the sustainable production of food, fuel and renewable materials. When deciding whether a paper is suitable, consideration will be given to the breadth of the work and its significance to the plant science community. JXB also welcomes submissions communicating new methods and tools, provided that authors demonstrate that the method has the potential to bring new biological insight and has broad applicability.
Publisher: Oxford University Press
Owners: SEB
---
Benefits of publishing:
Excellent support and customer service provided by the JXB editorial office
100% owned by the SEB, all SEB profits are reinvested into the community
Rapid publication of accepted manuscripts
Option to transfer declined manuscripts to Plant Direct
Integrated with bioRxiv for fast transfer of pre-prints to the JXB submission system
'Editor's Choice' articles selected by the Editor-in-Chief and featured in regular issues
Promotion of early career researchers through SEB seminars and first author videos
Ten special issues every year, often linked to sponsorship of meetings
Flexible formatting for new papers
Committed to high standards of ethics in publishing (a member of COPE)
Many authors will have their open access charges covered under a Read & Publish deal with our publisher. JXB also retains a free option for publishing with the journal.
---
Publishing model: Online-only, hybrid open-access (free and OA licenses available)
---
Peer-review model: Single-anonymous
---
2022 metrics:
Journal Impact Factor: 6.9 (rank 18/238 in 'Plant Sciences' category)
Journal Citation Indicator: 1.49 (rank 19/262 in 'Plant Sciences' category)
CiteScore: 12.0 (rank 16/487 in 'Plant Sciences' category)
Output: 648 papers
Visits with Content Engagement: 2.5 million
Acceptance rate: 22.4%
Turnaround time: 33.6 days (mean, submission to first decision, all papers)
Indexed in Web of Science, Scopus, Google Scholar, PubMed
Types of articles: Research, Reviews (including prestigious Darwin Reviews & shorter Expert Views), Technical Innovations (methods), Community Resources, Insights (commentaries), Editorials, Viewpoints, Special Issue papers (research & reviews)
---
Links to important webpages:
Contact: JXB has six dedicated members of staff to answer any questions you may have: [email protected]