A Great Start to PEPG Field Techniques Workshop
The much-anticipated PEPG Field Techniques Workshop kicked off with a bang on its first day, leaving participants brimming with excitement and knowledge. Held at the picturesque Quinta de Sao Pedro Field Study Centre, the event featured a lineup of distinguished speakers and engaging activities.
The day began with a warm welcome from renowned figures in the field, including Steve Long, Howard Griffiths, Andrew Leakey, and SEB President Tracy Lawson. Their introductory speeches set the stage for a day filled with insightful presentations and hands-on learning.
Morning sessions were a deep dive into the science of plants, with Andrew Leakey's exploration of leaf gas exchange and Tracy Lawson's enlightening presentation on chlorophyll fluorescence. However, the day didn't start without a bit of a hiccup – a broken coffee machine during the coffee break left attendees in dire need of caffeine. Fortunately, our fantastic hosts at Quinta de Sao Pedro came to the rescue, ensuring everyone had their coffee fix in no time!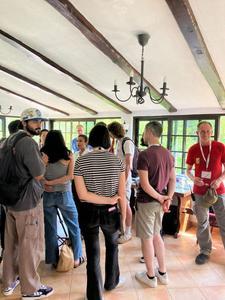 Reenergized and ready for more, participants delved into the next round of talks. Kathy Steppe covered the intricate world of water relations, while Colin Campbell shared valuable insights on roots, soil, and water. Carl Bernacchi's presentation on canopy, ecosystems, and remote sensing rounded off the morning sessions, leaving attendees with a wealth of knowledge to absorb.
Lunchtime provided not only a delicious spread of salads but also the opportunity to bask in the glorious sunshine in the courtyard, fostering connections and camaraderie among participants.
The afternoon took an interactive turn as participants had the chance to meet the manufacturers behind the equipment and techniques discussed earlier in the day. Sponsors and exhibitors, including LI-COR, Hansatecht, Ocean Insight, Hyperspectral, Delta T Devices, METER, PhotosynQ, Mahr, and WALZ, introduced themselves and their equipment, allowing attendees to get hands-on experience with cutting-edge tools.
As the day transitioned into the evening, participants gathered for a delightful dinner, providing an excellent opportunity to catch up with fellow attendees and forge new connections. The excitement continued with a fun wine trail, where participants met the sponsors and savored a glass of wine, adding a touch of leisure to the day. The evening concluded with a spirited pub quiz, testing participants' knowledge and providing a jovial atmosphere to cap off an exceptional day.
With such an incredible start, the PEPG Field Techniques Workshop promises to be an educational and memorable event. As participants look forward to the days ahead, the anticipation for more enriching experiences and networking opportunities is palpable. Stay tuned for further updates from this exciting workshop!