Why and how does metabolic rate scale with body size?
Date: 3-4 July 2022
Location : Le Corum Conference Center , Montpellier, France

ORGANISED BY:
Tommy Norin; Technical University of Denmark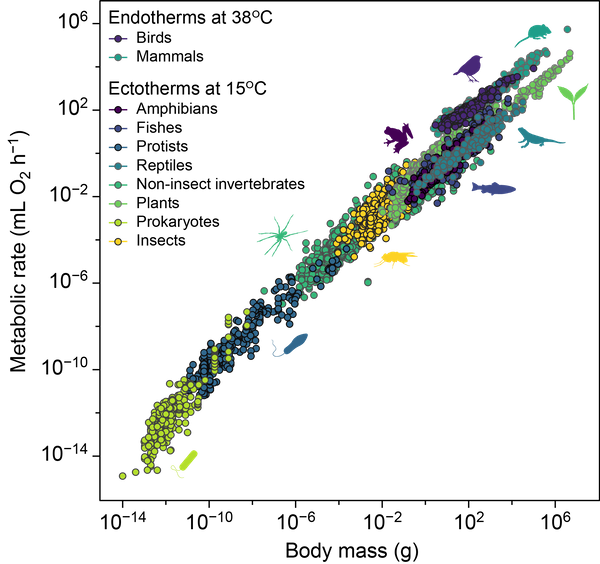 Metabolic rate is closely related to body size (body mass), but when mass increases, metabolic rate usually increases less. This allometric scaling relationship between metabolic rate and body mass is fundamental to biology and widely applied, but also one of the most debated concepts in integrative and comparative physiology, ecology, and evolutionary biology.
Several theories and hypotheses have been put forward to explain why and how metabolic rate scales with body mass, and why there appears to be variation in how steep this scaling relationship is among different taxa and physiological or ecological conditions (e.g. 'surface area', 'cell size', 'fractal distribution network', 'dynamic energy budget', and 'metabolic-level boundaries' theories or hypotheses). However, the lack of consensus on these important topics is a major barrier to our understanding of the pace at which organisms of different sizes and species expend energy and need to consume resources such as food and oxygen from the environment. It also limits our ability to predict how metabolic rate and body size (co)evolves, and how climate change affects metabolic demands and body sizes, as metabolic scaling exponents are used to model how these key organismal traits are affected by changing temperature and oxygen levels. The importance of metabolic scaling is clear, yet it remains one of the most controversial concepts in biology.
The overall aim of this satellite meeting is to bring together researchers working with metabolic scaling, to: (1) bring the field up to speed on state-of-the-art knowledge and research on metabolic scaling; (2) help understand how the vastly different views and opinions on metabolic scaling can persist despite more than a century of research (e.g. scaling in proportion to surface area or not, universal ¾-power scaling or not, governed by ecological vs. physical or geometric factors); and (3) identify and help streamline specific areas of research on metabolic scaling that will be particularly important for our further understanding of why and how metabolic rate scales with body size.
The meeting is being organised as part of the Animal Section of the SEB and will therefore have a focus on metabolic scaling of animals, but work on other organisms is welcome where this can provide insight into metabolic scaling in general.
---
Accommodation and hotel bookings:
Please click here to have information regarding accommodation
The following accommodation is still available in Montpellier, please use the links below to book:
Ibis Montpellier Centre Millénaire
Please use the following link to book

62€ per room per night

City tax is 0.99€ per person per night,

Breakfast is 6.60€ per person, per day.
Courtyard by Marriott Montpellier 4*
Please use the following link to book:
Standard room single occupancy : 164 € /night

Standard room double/twin occupancy : 179 € /night

American breakfast buffet : included

City tax : 2 €/person/night

Hôtel Ulysse *** Montpellier Centre Corum
Please use the following link to book
Single room price including breakfast : 130.00€ per room per night
City tax : 1.50€ per day per person
To get this special price please quote SEB
---
This event will take place in Montpellier, social distancing measures will be implemented throughout the venue. Please click here to view the requirements for Montpellier before you travel.