TRAVEL INFORMATION
Montpellier Méditerranée Airport
13 Montpellier is easy to reach by plane from Paris (1h10), London (1h45) and Amsterdam (1h55). Montpellier Méditerranée Airport is just 8 mn from the city center (easy access with regular shuttle service).
Direct domestic flights: Ajaccio, Bastia, Brest, Bordeaux, Nantes, Paris (Orly & CDG), Lille Strasbourg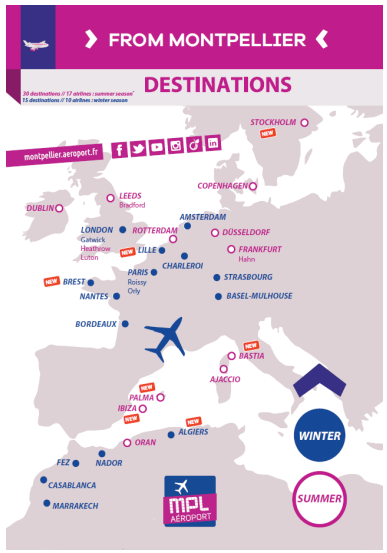 Direct flights in Europe: Amsterdam (The Netherlands) Basel Mulhouse (Switzerland) Charleroi (Belgium) Copenhaguen (Denmark) Dublin (Ireland) Dusseldorf (Germany) Frankfurt Hahn (Germany) Leeds Bradford (UK) London Gatwick (UK) London Luton (UK) London Healthrow (UK) Rotterdam (The Netherlands) Stockholm (Sweden) Palma de Majorca (Spain) Ibiza (Spain)
Direct international fllights: Morocco (Casablanca, Fès, Marrakech, Nador, Tanger) Algeria (Alger, Oran)
More information on: https://www.montpellier.aeroport.fr/
The 2022 Annual conference will take place in Montpellier social distancing measures will be implemented throughout the venue. Please click here to view the requirements for Montpellier before you travel.