The abstract submission for the SEB Centenary Conference closes today

We would like to announce the SEB Centenary Conference Edinburgh 2023 is closing today.
All abstracts for the Annual Conference must be submitted via our online abstract system.
Abstracts can be submitted for any of the scientific sessions at the Annual Conference.

The abstract submission deadline is Midnight (GMT) on Monday 13 March 2023.
---
REGISTRATION
Don't miss out on your chance to present your research amongst 1000 scientists from all around the globe.
Early bird registration will be closing at Midnight (GMT) on Friday 12 May 2023 so do not miss out on your chance to take advantage of our discounted registration fees.
Please use the following link:
If you do not already have an account, you will need to create an account to register

---
SESSIONS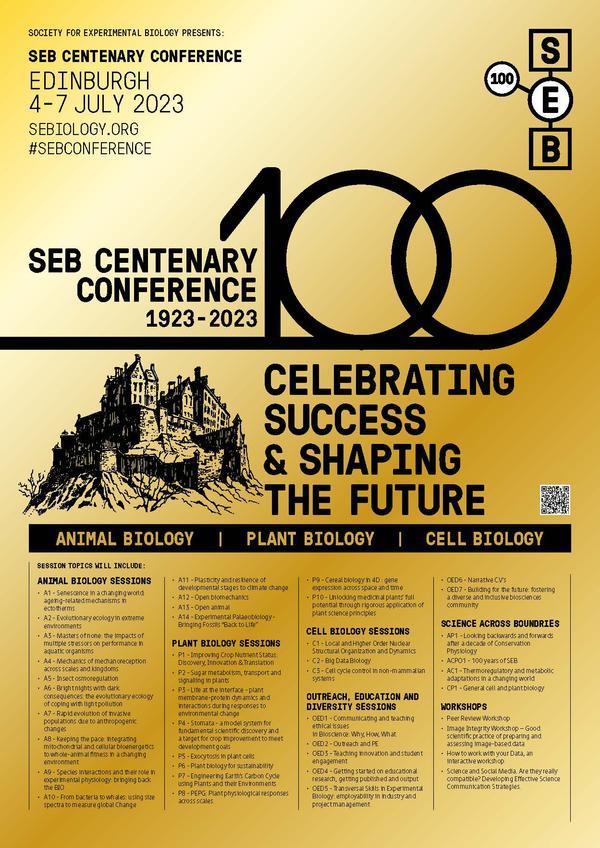 Take a look at the sessions taking place at our Centenary Conference here:
All the sessions are available by clicking the button below:

---
TRAVEL GRANTS
Please note that SEB is able to offer a number of travel grant opportunities for student and early career scientist members of the SEB to attend the SEB Conference.
COMPANY OF BIOLOGISTS TRAVEL GRANT
You can apply here for the Company of Biologists travel grant on a quarterly basis and the application deadline for a CoB grant to attend "SEB Centenary Conference 2023" is 31 March 2023.
To apply for a SEB Conference travel grant, please fill in the Travel grant application form by May 2022.
The SEB is providing up to £240 additional funding to successful applicants of the SEB Travel Grant 2023
---
ACCOMMODATION AND HOTELS BOOKING
We are working in collaboration with hotels within easy walking distance of the Edinburgh International Conference Centre.
You will find some excellent accommodation options offering a discounted rate to SEB attendees
---
If you have any queries, please don't hesitate to contact us at [email protected].

We very much look forward to seeing you there.
Best regards,
The SEB Team